England's Lake District National Park might be the most picturesque hiking destination in the UK. It's got everything a hiker could hope to find in the great British outdoors- craggy mountain peaks, beautiful lakes stretching off into the distance, ancient stone circles, wild deer roaming the hillsides, ruined castles, and a scattering of excellent traditional pubs.
If you're familiar with Wordsworth's poem 'I wandered lonely as a cloud…' you've already heard about the Lake District. Wordsworth was inspired to write those lines after a walk near Ullswater (one of the bigger lakes) in 1802. Sir Walter Scott also wrote about this part of the world, and so did Samuel Taylor Coleridge, Robert Southey, and many of the great poets of the Romantic Movement.
It was also home to hiking pioneer Alfred Wainwright, a man who penned descriptions of no less than 214 hills and mountains — locally known as 'fells'. That figure should give you some idea just how hilly the Lake District really is. There are easy day walks suitable for families, week-long expeditions for the more adventurous, and scrambles and full-blown rock climbs for those who like their terrain a little more vertical. Winter or summer, it's a paradise for hikers.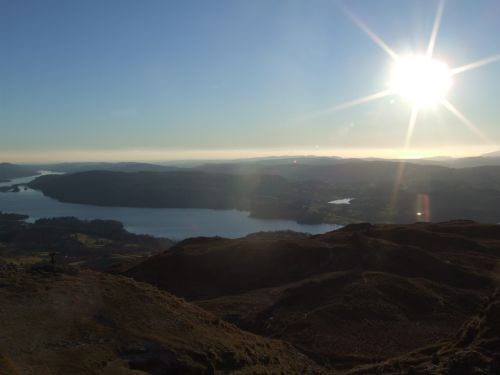 Scafell Pike is one of the most popular summits. At well over 3000ft it's the highest in England. On a good day it offers views of peaks up to 100km distant and sometimes it's even possible to catch a glimpse of the sharp peaks of North Wales or the Mourne Mountains in County Down far away across the Irish Sea.
Those who want to try scrambling should choose Helvellyn, a little further south. It's not quite as high as Scafell Pike but still tops the 3000ft mark, and there are two classic ridge walks to the summit. Hikers can either go up Striding Edge and down Swirral Edge or vice-versa. The exposure is stunning and the views are spectacular, right beneath your feet. This is one for those with plenty of experience and a good head for heights. In winter conditions crampons and ice-axes are definitely recommended.
In the evenings it's time to relax by the water's edge. Sunset from Ambleside, just on the edge of Windermere, is often absolutely incredible: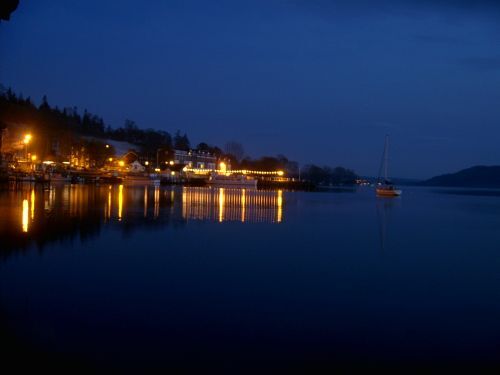 If you happen to be driving along the edge of Ullswater on a still evening you'll see the mountains reflected with almost unreal clarity: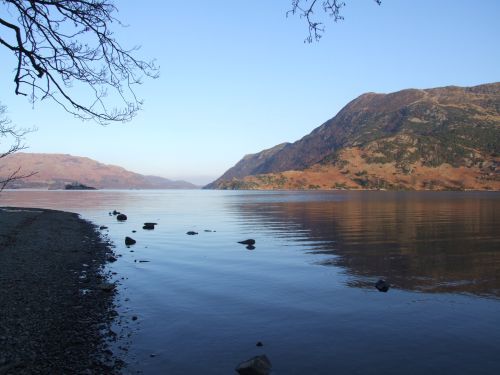 Even if you come just to hike it's worth taking a day off to hire a bike and wander by the waterside or hop on a boat tour.
Jess Spate is a UK-based hiker and a rock and ice climber. Understandably, the Lake District is one of her favourite places to be. When not out on the fells or clinging to the rocks she writes for Appalachian Outdoors (follow them on twitter @AppOutdoors), an American hiking and camping retailer.