Bridalveil fall is one of the prominent landmarks you will see if you enter Yosemite National Park from the south end and stop at Tunnel View. Bridalveil Fall is 617 feet (188 meters) high and flows year round, although the rate of flow changes from season to season. Ostrander Lake which is just under 10 miles away is the primary water source of Bridalveil Falls.
It is a short hike from the parking lot up to a view point of Bridalveil Fall. The few times I have visited, there has always been enough wind to make photo taking at this view point problematic as the mist from Bridalveil Fall quickly covers the lens of the camera. There are, however, other points along the path were nice photos can be taken if this happens to be the case when you visit as well: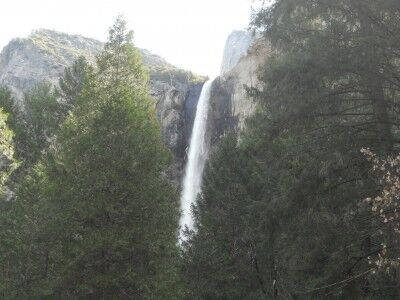 There are a couple of foot bridges that offer good views of Bridalveil Fall and also are interesting in their own right. The river that forms at the bottom of Bridalveil Fall also offers a number of wonderful opportunities for interesting photography: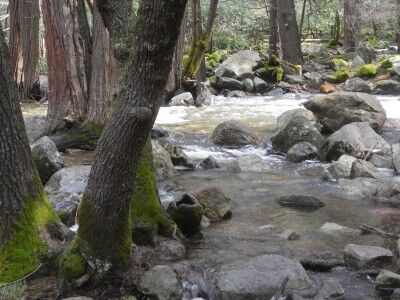 The Ahwahneechee Indian tribe that used to live in Yosemite Valley believed that a vengeful spirit named Pohono (Spirit of the Puffing Wind) dwells within Bridalveil Fall and guarded the entrance to Yosemite Valley. Although Pohono was a vengeful spirit, the Ahwahneechee Indians didn't see Bridalveil fall as all evil. They thought that inhaling the mist of Bridalveil Fall would improve one's chances of marriage.