I really enjoy finding unique beaches. A prime example is sea glass beach in Fort Bragg. I managed to stumble across another one this weekend when I traveled to Pfeiffer Beach in Big Sur California.
I actually have been to Pfeiffer Beach before (with direction on how to get there), but didn't realize that it had a little secret — it's one of the few purple sand beaches in the world. I missed this because the main part of beach doesn't have much purple sand (if you look closely, you can see little bits here and there, but if you weren't specifically looking for it, you wouldn't notice it — at least I didn't on my first visit).
To really see the purple sand, you need to walk beyond the main beach area toward the north. The father up the beach you head in this direction, the more purple sand that can be seen. The easiest place to spy the purple sand is at the base of the hills, but there will be certain areas of the beach that also have purple sand patterns woven into the mix. For those who go to the beach expecting that the entire beach will be purple, they will be disappointed. The vast majority of the beach is white sand like any other beach. There are, however, areas where purple sand mixes with the white sand (usually with black sand as well) to make some wonderful patterns: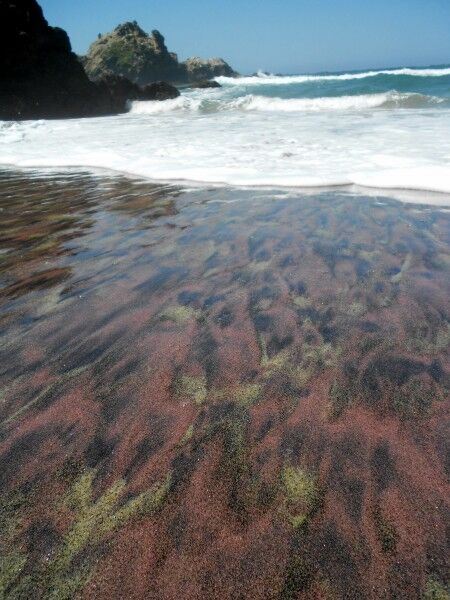 What is amazing is that each time a wave comes up the beach and washes over the purple sand, the pattern changes making it like a constantly changing giant sand painting: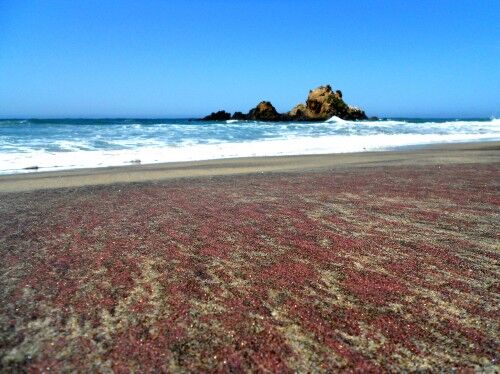 Due to the numerous rock outcroppings just off shore, you can see California Coastal National Monument from Pfeiffer Beach as well: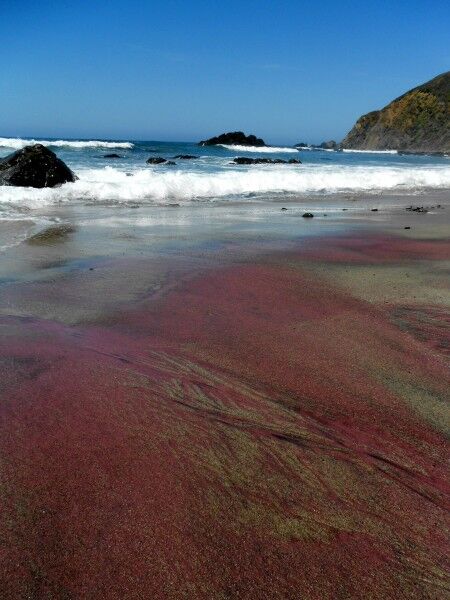 The purple sand is the result of manganese garnet deposits which are found in the hills surrounding the beach. For anyone that enjoys seeing the unexpected and interesting phenomenon at the beach, scheduling a day to explore the purple sands at Pfeiffer Beach is definitely worth taking the time to do.