By Julie Bowman
Last summer, I had the pleasure of visiting Con Dao National Park in Vietnam. The picturesque scenery was like something out of a fairy tale. I have travelled to many places in the world, and nothing has made an impression on my memory quite like this magical island with its many rich colours and lush expanse that a large faceless city just cannot do.
The first thing that caught my attention was how verdant and green everything appeared. I'm from an urban community, so perhaps I'm just not used to it, but the lush foliage all around during the hiking we did on the first day was almost overwhelming. I could also tell a difference in the air quality compared to where I come from. The aura was natural and inspiring, an essence of pure utopia. First impressions really do make an impact as I have not forgotten my initial perceptions of Con Dao.
I chose to access the islands by plane. While you can opt to travel by boat, I spoke to a couple staying at my hotel that chose this option, and they said that they lost two days waiting on the boat due to high wind conditions. While this could have been a unique circumstance, it is something that could have been avoided by flying.
Con Dao is composed of 16 islands, and travelers to this remote destination can expect to have a jam-packed itinerary, because there is never a dull moment. I had always dreamed of scuba diving as a child. Pictures flooded my mind of what to expect, but nothing could have prepared me for the majestic beauty of the sea that I beheld when I went diving in Con Dao. The aqua waters were beautiful, smooth and tranquil during the entire length of the dive. I could hardly take my eyes off of the coral reefs. While I had seen pictures in the brochures I had studied prior to arrival, the printed images could not capture the vast beauty of the real thing. Con Dao was the perfect location to fulfil my lifelong scuba diving dream.
Perhaps the most fascinating aspect of my visit to Con Dao was seemingly the most mundane — driving around the main island. My friends and I travelled on motor bikes during our visit, which was another first for me. The scenery that opened up in front of our eyes at every bend never ceased to amaze us.
My week-long trip to Con Dao was an experience I know I will never forget. While there are many places I have visited that I would never return to, I sincerely hope the opportunity to return to Con Dao one day presents itself.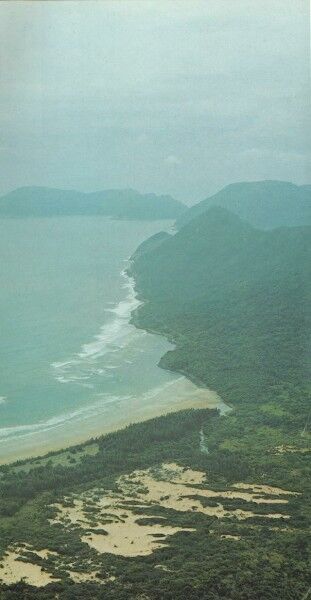 The photo shows the magnificent Con Son bay on the Con Dao Islands, which only hints at the amazing national park that lies just beyond those waters. I took several boat rides around the islands after I'd completed my main trek around the national parkland, and it was a completely different experience; so serene and peaceful compared to the hot sticky trek. The area as a whole is fairly unknown, especially outside of Vietnam, so it's great to be able to visit and be literally the only Westerner here!
I did actually meet a couple from the USA on my trip and they said they were loving the whole ambience too, although to be fair, they hadn't yet tried the trekking element of their trip yet! The photo doesn't convey just how hot and humid the islands can be so it's so important to dress appropriately and also carry lots of water with you. And the guidebooks also won't tell you that there's a fair amount of mosquitoes and midges around too, so make sure you're armed with some insect repellent spray etc. But most of all just enjoy it as Vietnam is getting incredibly popular now so hurry before everyone cottons on to this great destination!
Julie has travelled to many countries across the world and has a particular passion for Asian culture, history and people and her most recent independent trip was to Vietnam where she relished immersing herself into the local culture and trying the local foods.