I always love when I come across the unexpected. As I was traveling highway 1 down the coast of California, I heard that it would be worthwhile stopping at Limekiln State Park (CA) to see the waterfall that they had there. I enjoy waterfalls and think that they have a mysterious beauty in themselves so it was a no brainer that I would make the stop, but I was pleasantly surprised at how beautiful Limekiln Falls actually is.
There isn't much parking at Limekiln State Park (maybe 20 spaces total outside of the camping area) as it is mainly a place set aside for those camping. To get to the Limekiln Trail (which will lead to Falls Trail), you park your car and head toward the bathrooms at the end of the parking lot. As you pass the bathrooms, you'll get a see of all the dangers that you could face on the trail.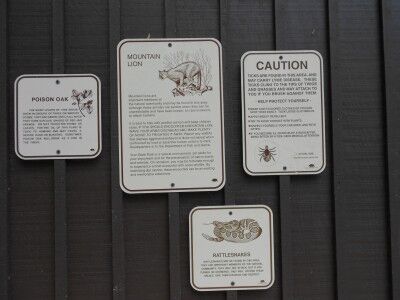 Once past the bathrooms, you need to walk through the camp ground to the far end where the Limekiln Trail Head is located. Once on the trail, it will fork about 200 yards in with Hare Creek Trail to the right and Limekiln Trail to the left following Limekiln Creek: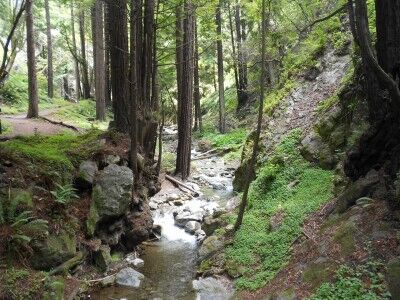 The trail is shaded and cool with huge clovers covering the ground in many areas: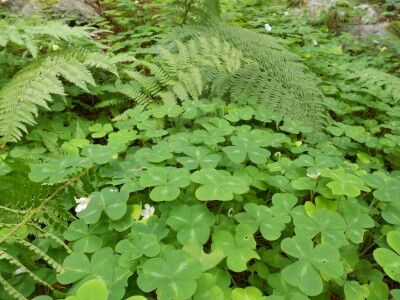 Stay to the left at the fork on Limekiln Trail and about 1/4 of a mile further on the trail will fork again with Limekiln Trail to the left and Falls Trail to the right. Stay right. Once you reach this fork, it's about another half mile to the falls (about 1 mile in total).
The Falls Trail has some obstacles, but most people should be able to manage it. There are several places where you must cross Limekiln Creek. Fallen branches and logs have been placed down at these crossings, but it does require a bit of balance if you don't want to fall into the water: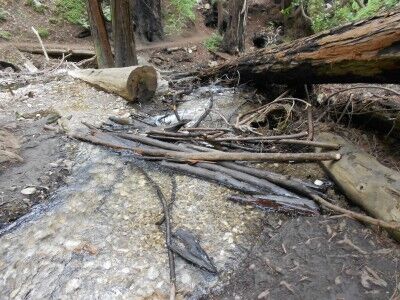 There are also several places where fallen trees have blocked the trail and you must scramble under or over them to remain on the trail: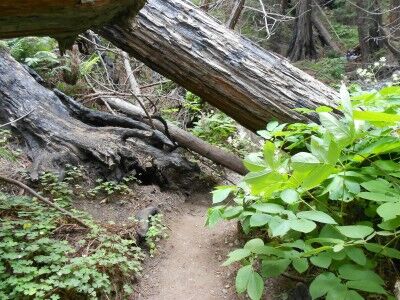 Once you reach Limekiln Falls, I immediately realised why people recommended to place it on the lists of places to see. The waterfall fans out and much of it cascades down mossy vegetation in the center of the falls. It reminded me a bit of the waterfalls in Fern Canyon at Redwood National Park, but on a much larger scale (it's about 100 feet in height) and with the sun making everything sparkle: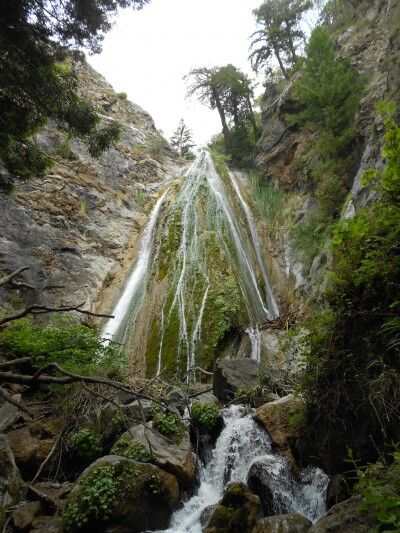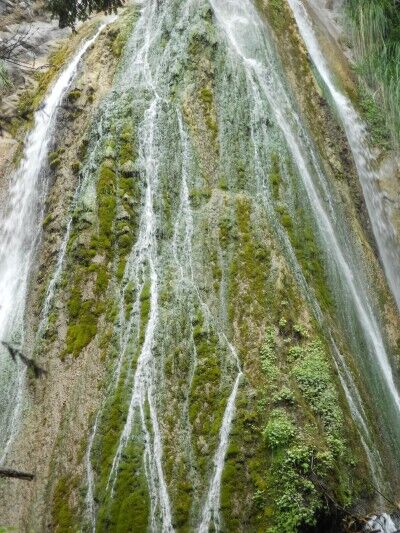 If you happen to being driving the coast of California, it's definitely worthwhile making a stop to see this waterfall. If interested, here are some more photos of Limekiln State Park. Unfortunately, Limekiln State park is on the list of California State parks to close.