One of my favorite places in Death Valley is the Devil's Golf Course. A lot of people skip this area because they're in a hurry to reach Badwater Basin, the lowest point in the continental US at 282 feet below sea level (and all the temporary graffiti that is unfortunately there). While Badwater certainly shouldn't be missed, taking some time to go down the half-mile dirt road which leads to the Devil's Golf Course is well worth the time.
One of the most surprising aspects of this area is that the bigger salt crystals aren't easily broken (there are more delicate crystals which can be found hidden in the crevices which are fragile). From a distance, the large crystals look delicate, but as soon as you touch one you know why this area received the name it did. Not only are they hard, they are sharp and pointy. It's no coincidence that there are warning signs all around the area letting people know that "a fall cold result in painful cuts or even broken bones."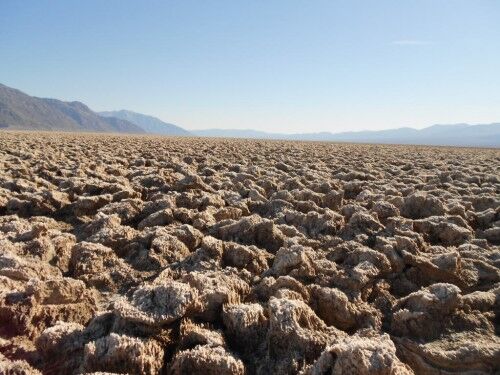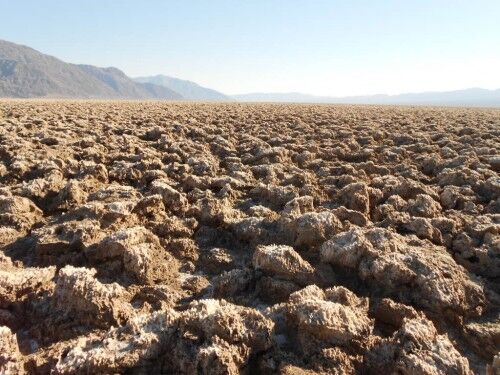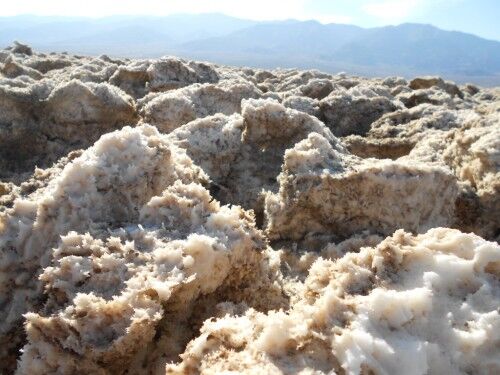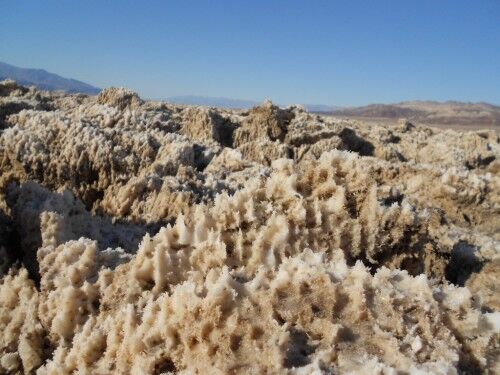 This is how the information sign in the area describes the Devil's Golf Course formation:
Crystallized salts composed the jagged formations of this forbidding landscape. Deposited by ancient salt lakes and shaped by winds and rain, the crystals are forever changing.

Listen carefully. On a warm day you may hear a metallic cracking sound as the salt pinnacles expand and contract.

The Death Valley saltpan is one of the largest protected saltpans in North America. Salt continues to be deposited by recurring floods that occasionally submerge the lowest parts of the valley floor. Delicate salt formations are hidden among the harsh and rigid spires. Close inspection may reveal the tiny salt structures. Take care — one curious touch can cause them to crumble.
So if you're visiting Death Valley, be sure to set aside a little time to visit this area. You won't regret it.