I've looked at one of our National Monuments hundreds of times and never even realised it. If you have ever been along the California coast, there is a good chance that you have seen this national monument as well. The California Coastal National Monument, as it name implies, spans the entire coast of California and was established on January 11, 2000. It compromises more than 20,000 small islands, rocks, exposed reefs and pinnacles located off the 1,100 miles of the California coastline.
I would not have even realised I was enjoying the scenery that this National Monument provided except for an informational sign I happened across: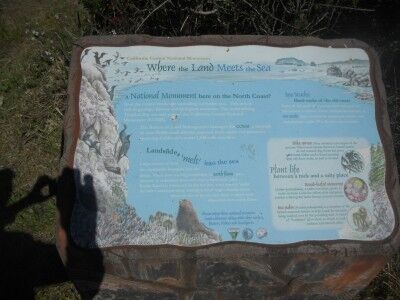 Where Land Meets The Sea

A National Monument here on the North Coast?

Scan the coastal landscape spreading out before you. This area is rich in geological history and biological resources. The rocks dotting Trinidad Bay are now part of California Coastal National Monument (CCNM).

The Bureau of Land Management manages the CCNM, a network of over 20,000 small islands, exposed reefs, rocks and pinnacles spanning California's entire 1100 mile coastline.

Landslides melting into the sea

Large masses of land are continually slumping into the ocean. The slow moving landslides, or earth flows, are a mixture of sediments from soft clay to hard rock. Like Rocky Road ice cream left in the hot sun, wave energy melts the softer sediments away, leaving behind large, chunky rocks. Many of the rocks you see close to shore were deposited from earth flows.

Ses Stacks: Hard rocks of the old coast

Some of the rocks that you see were once part of the ancient coastline. These resistant formations, or sea stacks, were isolated by rising seas, you erosive surf and geological uplift. Pilot rock is one example.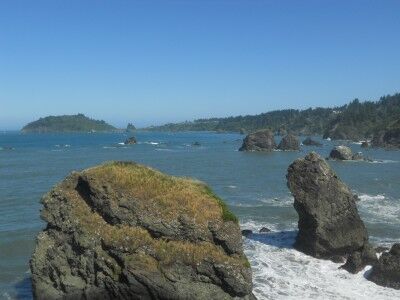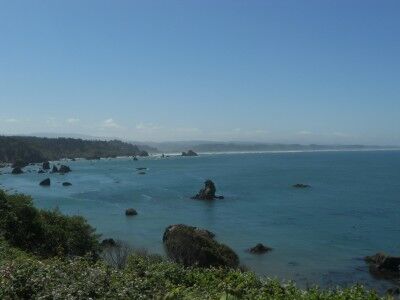 So now you know. If you happen to be along the California coastline and see rock formations off the coast, you are looking at one of our newer National Monuments.