I made my first visit to Crater Lake National Park (OR) earlier this year and was greeted with a lot of snow. I thought that another trip on the first day of summer would be a fun idea and quickly discovered that there is still a lot of snow up there with virtually all hiking paths still closed due to snow. Still, that didn't stop me from taking some beautiful photos: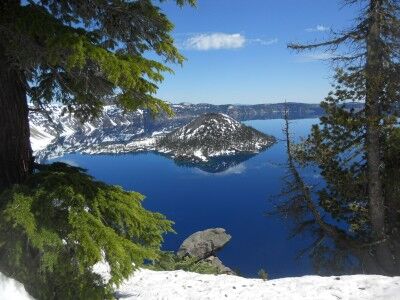 I also shot a short video of Crater Lake from the viewing area just below the visitors center:
While camping is possible and some camp grounds have been cleared of snow, they are still surrounded by as much as 10 feet of snow making for some cold weather camping. For those looking to visit Crater Lake and want to do a bit of hiking and camping, I would wait until well into July for the snow to melt off. I certainly will be back with the hopes of being able to hike some of the trails on my next visit.