By Kristen Lummis (enjoy her blog Brave Ski Mom, like her on facebook or follow her on twitter @BraveSkiMom)
Like many families, we have a Thanksgiving tradition that we cherish. Every other year, we spend Thanksgiving at Grand Canyon National Park.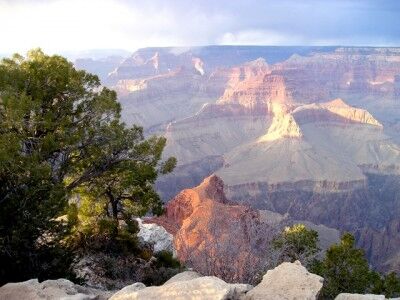 Here's how we do it. We take advantage of the four day weekend and make it a five day weekend, taking the boys out of school on Wednesday and driving through some of the most spectacular scenery in the Southwest. We leave early in the morning, so that we have time to stop and take in the beauty of southwest.
Along the way we have made detours to Newspaper Rock where we try to decipher centuries of petroglyphs. We've stopped along the San Juan River in the beautiful village of Bluff, Utah for lunch and more Native American art. We've driven out of our way to stand high above the Goosenecks of the San Juan near Mexican Hat. We've spent a couple of hours at Monument Valley, drinking in its grandeur and learning about the Navajo code talkers in the museum. We've pulled off the road between Kayenta and Tuba City, not for something to see, but just because it was a beautiful day and we thought it would be fun to toss a football.
And then once we enter the park at Desert View, we stop at every turnout until we reach Grand Canyon Village on the South Rim. Because no matter how many times you have seen the Grand Canyon, each time is like the first time, even if you just saw it 10 minutes ago. The Canyon is an awe-inspiring sight.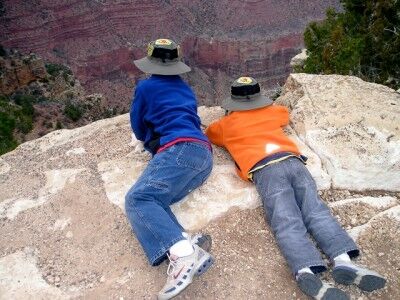 So once we are there, what do we do? We hike, we play cards, we browse the National Park Service bookshops, we eat (of course!) and we hike some more. The first year, just our family of four made the trip. We had such an amazing time that two years later, we invited my parents. We awoke on Thanksgiving Day to fresh snow. It was magical and muddy, but we still went hiking.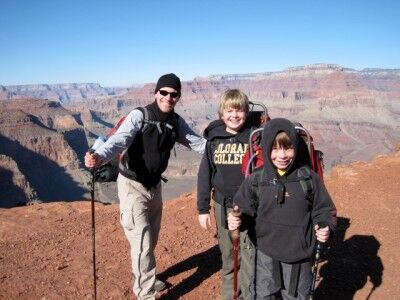 In 2009, we stayed home for Thanksgiving, but the following weekend we were at the Canyon hiking down to Phantom Ranch were we spent two night before trekking back out. Last year, my parents and my husband's mom joined us on the South Rim.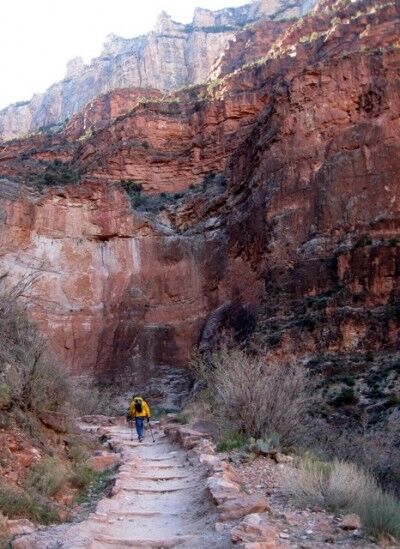 Thanksgiving is a day for traditions. This happens to be ours. It's a tradition I hope we will continue even as our sons grow into adulthood and have their own families. We are thankful that we have found something so meaningful to us.
More on Thanksgiving and Winter at the Grand Canyon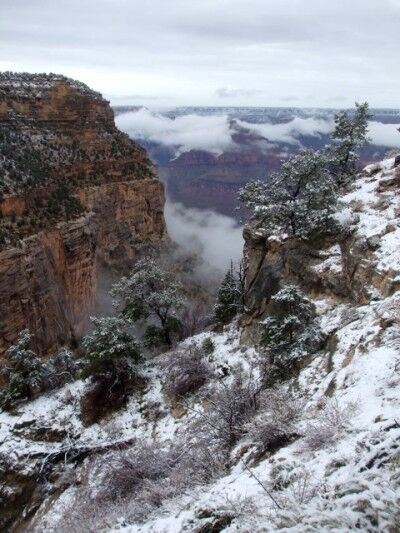 Although the Winter season crowds are much smaller, it's still important to reserve your room or camping spot at the Grand Canyon as early as you can. Reservations are taken at Xanterra up to one year in advance.
While meals at the historic El Tovar Lodge usually require reservations months in advance, no reservations are accepted for their delicious Thanksgiving Feast. Instead, you give them your name and the number in your party and they will tell you how long the wait will be.
Enjoy!