One place that I would definitely recommend when visiting Mojave National Preserve (CA) is Hole-in-the-Wall which is perfectly named. A few million years ago, the eruptions of a nearby volcano covered the area with a mixture of lava, gas and ash. As the ash cooled and the gas began to dissipate, the gas bubbles within the cooling lava expanded forming large holes. These large holes in the lava, which have been further enlarged through natural wind and water erosion, give the site its appropriate name.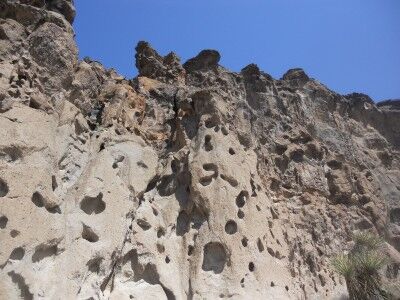 The best place to begin your exploration of this area is at the visitors center where you can learn about the 1.5-mile loop Hole-in-the-Wall Rings Trail, nearby camping, nearby picnic areas and other activities in the area. The visitors center has running water and bathrooms and the park rangers were extremely helpful. Best of all, there are no fees to explore Hole-in-the-Wall.
If you do nothing else, you will definitely want to take the Hole-in-the-Wall Rings Trail. The Rings Trail trail-head is at the far end of the visitor center parking lot. While you can also begin the loop trail near the camping area, I would recommend doing in this direction to leave the best for last. This will lead you first through the desert shrubland to a rock with petroglyphs, then around the back side where you will get a wondrous view of the lava rocks that give the site its name which you will ultimately climb through with the help of metal rings drilled in the rock to make it possible to get through. You will emerge at the camping site and then it is a short walk from there down the main road back to the visitors center. definitely worth doing to see the interesting rock formations and you will want to give yourself some extra time to explore all the nooks and crannies that make the area so interesting.