By Laura Elise
I was never impressed by waterfalls until I visited Iguazu, which I think says something considering I grew up a few hours from Niagara Falls. Iguazu Falls is a complex of 275 waterfalls pouring through the subtropical jungles of Argentina and Brazil. It stretches 1.7 miles across and at its highest plunges 270 feet to the river below. The area surrounding the waterfalls is protected by two national parks: Parque Nacional do Iguaçu in Brazil and Parque Nacional Iguazu in Argentina.
Although I was lucky enough to visit both this past February, I preferred Argentina's National Park. Although it's difficult to get "off the beaten path" in either park, there is little reason to want to, as the waterfalls are the main attraction. The area became a National Park in 1934 and a UNESCO World Heritage Site in 1984.
The park is connected by walkways and a mini-train, which takes you to the far end of the park. This is where the largest fall, Devil's Throat, is located. This horseshoe waterfall plunges dramatically, sending plums of mist high into the air. The view point is reached by metal walkway suspended over the deceivingly tranquil Iguazu River.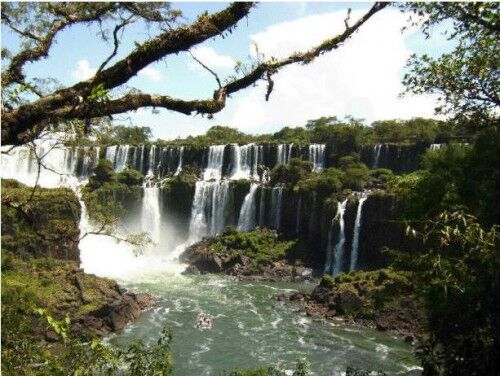 Iguazu National Park contains two main walking circuits, called the Upper and Lower Circuit. They correspondingly take you to the best view points to see the falls from the top and bottom of the waterfalls. In 2012, it cost 130 pesos to enter the park (about $30 USD, although you must pay with local currency). Although a boat ride to the foot of the falls costs extra, there are additional activities, such as visiting San Martin Island or hiking the Macuco Trail, which takes about three hours. To see the full panoramic view of the falls, you need to visit the Brazilian side of the falls, which charges an additional entrance fee.
Visitors are allowed to bring food and drink inside the park, a nice option since everything inside the park is a bit pricy. There are also a few drinking fountains where you can refill your water bottle — a rarity in Latin America. And although you're required to stick to the main paths, you're still likely to see wildlife. When I was there I saw iguanas, butterflies, coatis (raccoon-type mammals), and many types of birds. The subtropical vegetation contains over 2,000 species of vascular plants, and is extremely lush close to the falls thanks to the constant spray.
This area was originally occupied by the Caingangues Indians and then the Guaranies. The latter gave Iguazu its name, which means "Big Water." Spaniards arrived to the region in the 1540s.
Laura lives in Peru and writes for SA Luxury Expeditions, a travel company that specializes in South America tours. Due to Iguazu's remote location, she recommends combining Iguazu tours with a visit to Rio de Janeiro or Buenos Aires. Follow her on twitter @SA_Expeditions. Photo belongs to author.