One of the things that I love most about National Parks is the way they inspire all of us. It's especially interesting to see how the National Parks stimulate artists creative juices and the artistic works that come from this. Mary C Nasser is one of the many artists that find creativity and inspirations in National Parks:
All of my art is inspired by nature: specifically, landscapes and geology. My love of geology began with my first artist-in-residence award at Mammoth Cave National Park in 2005. There I studied the interconnectedness between surface and subterranean landscapes: exploring the relationships between developments underground and the evolution of the landscape that takes place on the surface.

In 2006, I was awarded another artist residency, this time at Wildacres Retreat in North Carolina along the Blue Ridge Parkway. It was during this particular residency that I began incorporating maps into my mixed-media paintings and adding geologic drawings, too. I studied the geology of the Great Smoky Mountains and mountains of the Blue Ridge Parkway.

In 2007, I spent time 2 weeks living as resident artist at Petrified Forest National Park, examining desert landscapes, where the combination of aridity and erosion exposed the earth's composition, structure, and layers, the relationships between them, and the deep time they represent.
Here are two wonderful mix media pieces which were inspired by Petrified Forest National Park: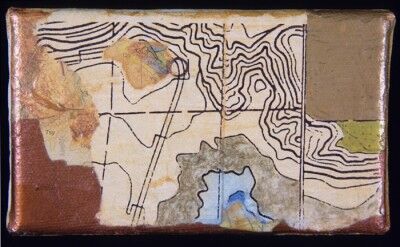 Blue Mesa: Mixed Media and Acrylic on Canvas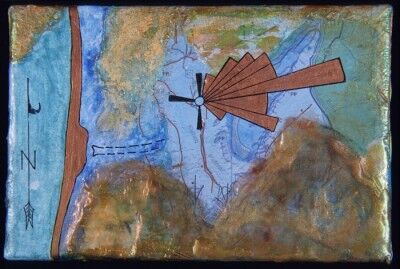 Plateau: Mixed Media and Encaustic on Canvas
You can see more of Mary's work on her website at Mary C Nasser, follow her on twitter or like her on Facebook. You can also keep up on Mary's latest projects on her blog.