When you visit Mojave National Preserve (CA), it makes sense to stop by the Kelso Depot Visitors Center to get information on all the different places and activities at Mojave National Preserve. As you walk from the visitor center parking lot toward the visitors center, you will see a couple of fairly low tan cages sitting out in front of the train tracks. When you first see them, you will likely wonder "what the hell are those things?" and eventually assume they are some type of animal cage. In reality, these "cages" were at one time the Kelso Depot jail: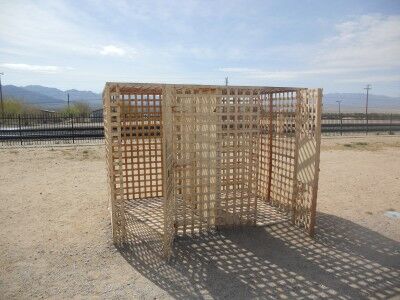 The two stalled jail was made out of metal strapping. When it was actually in use, a shade roof was built over the jail with corrugated tin walls added around the cage at a later date. The jail arrived at Kelso Depot in about 1944 which was a time when Kelso depot had a large number of drunk men wandering around from both the Kaiser (Vulcan) mine and Union Pacific railroad. The jail was mainly used to house these drunkards.
This must have been a pretty miserable place to be locked up, especially since the jail is less than 6 feet high. I'm not sure if the roof and tin walls would have helped relieve the heat or only add too it, but it certainly would not be a place that anyone would want to wake up with a hang-over.