For those who have an extra day when staying in Las Vegas and want to see something beyond the gaming floors and slot machines, an hour and a half drive out to Valley of Fire Nevada state park is definitely worth the effort. There is a good variety of scenic spots and different formations that will ensure that you don't regret the trip. There is also a very nice display of Native American rock art at Atlatl Rock. It's well worth stopping to see these ancient petroglyphs. An information sign placed in the parking lot before you climb a metal staircase gives the following basics about the atlatl:
An atlatl is a throwing stick or dart thrower used by ancient tribes to give more force to their darts or spears. It was usually a wooden stick about two feet long with a handhold on one end and a hook on the other end. A slot cut in the tail end of the dart was set against the hook allowing the dart to lie along the atlatl so that both could be grasped midway of the dart by the user.

These petroglyphs were made by ancient tribes. Respect their antiquity. Help preserve them.
When you reach the top of the staircase, the rock art is easily seen and quite bold. The art above the protective fence is well preserved and has little damage: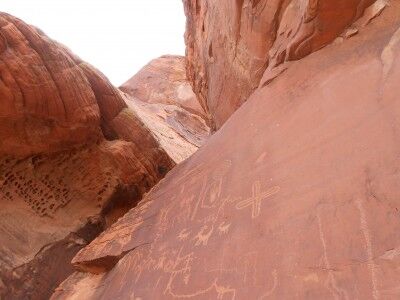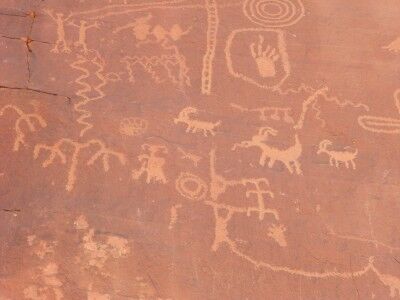 Unfortunately, the art work below the fence line has been vandalized to some degree: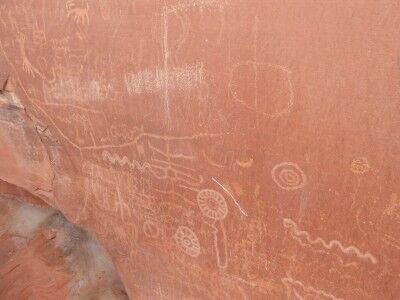 At the top, there is another informational sign which reads:
These petroglyphs have existed for over 4,000 years. Ancient drawings are a reflection of the past and the lifestyles of Native American cultures. Although we don't know exactly the meaning of the images, this art reflects the thoughts of these people.

In order to protect these cultural treasures, we ask that you do not walk on, touch or deface the rock. Help us protect our petroglyphs for others to enjoy for generations to come.

Report Vandalism!
Be sure to look around a bit because there id definitely more rock art than their first appears to be