Crater Lake National Park has a new hiking trail that will officially be opening this Saturday (8/20/2011), but I had the fortunate chance to hike it today. It's called Plaikni Falls Trail and it's a wonderful change of beauty from what most people only see when they visit Crater Lake National Park — the lake. The Plaikni Falls Trail leads to a gorgeous "secret" waterfall and cascading river which, until recently, few people knew how to get to.
The trailhead is along Pinnacle Road, 1.2 miles southeast of the Phantom Ship overlook off of East Rim Drive. The trail begins with old growth fir and hemlock forest all around which provide a nice bit of shade: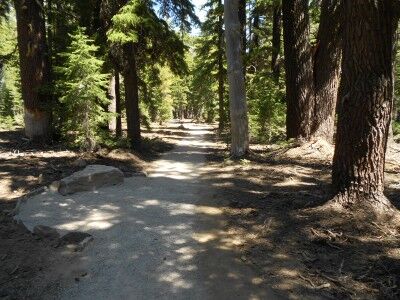 Plaikni Falls trail is a pleasant hike and relatively easy at 1.1 miles to the waterfall (2.2 miles round trip). The only real issue for most is that because it's so short, it's difficult to get away from other people if you're looking for a bit of solitude — it can get congested. The trail travels through the trees and along rocky bluffs until it hits Sand Creek where it opens up to wildflowers and lush vegetation at the base of Plaikni Falls: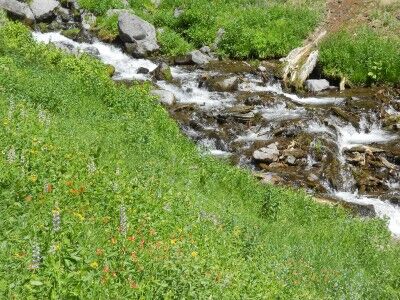 While Plaikni Falls isn't grand in size, it's quite beautiful as it comes down with abundant wildflowers (with butterflies fluttering all around while I was there — also mosquitoes, so you may want to spay on some bug spray before beginning the hike) and other vegetation to compliment the overall scene: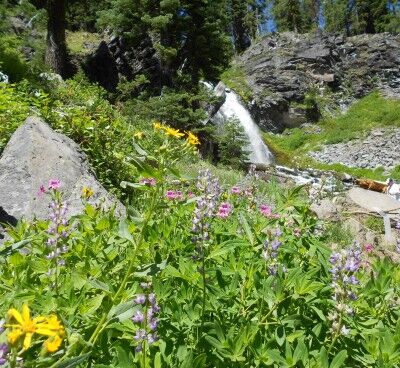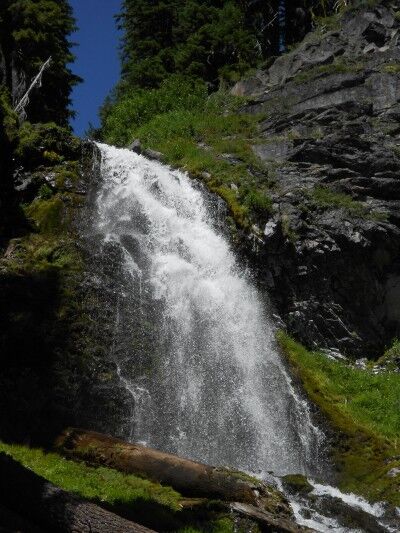 I would highly recommend this hike for those looking to see a different type of beauty other than the lake when visiting Crater Lake, especially for people like me who have a thing for waterfalls.
Note: This may not be an issue once the trail has officially opened, but it would have been today. While the trail is supposed to be a hard packed surface suitable for wheelchairs and strollers, not enough people had traveled the trail to make the hard-pack hard. A wheelchair or stroller would have definitely had some trouble getting to the falls when I went. This issue may very well be resolved by Saturday for the official opening. There were still volunteers hard at work finishing up the last touches on the trail, so they are aware that there is still work to be done.