We spent our first night at the South Canyon camping spot between mile 31 and 32 on the Colorado River in Grand Canyon National Park. When you are rafting down the Colorado River, there are designated spots where you are allowed to camp with other spots off limits. We arrived in early afternoon which gave us some time to hike around (if you plan to hike the side canyons when rafting down the Colorado River, a sturdy pair of shoes to change into from your raft water shoes is highly recommended).
I decided to try and hike up South Canyon with a small group from our raft since the guides said that it was a worthwhile hike. The South Canyon trail is a 6.5 mile (10.5 km) trail that leads from the Grand Canyon north rim to the Colorado River. Although we had no plans to hike the entire 6.5 miles of the trail, we were hoping to explore a few miles of the slot canyon.
Recent flash floods ended up making it a short lived hike. Less than 100 yards up the canyon was a huge boulder blocking South Canyon, but with a bit of scrambling and a log tilted against the rock, we were able to get past this first obstacle: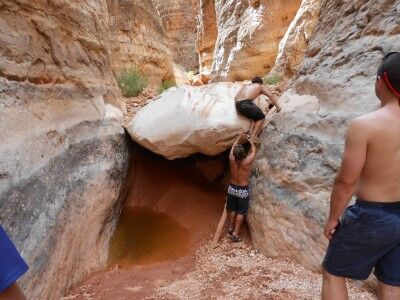 The second obstacle (a number of large rocks piled together in the canyon) just beyond the first rock ended our exploration of South Canyon. The ground beneath the rock was still wet from flash floods the week before creating a thick, sticky mud that didn't give us much footing. Even with another log placed next to the rocks in an attempt to bypass them, it was simply too large a pile to conquer: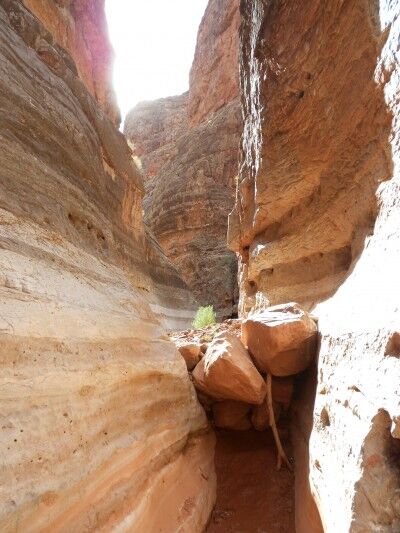 South Canyon appeared to be quite beautiful and would have been a lot of fun to explore if it had been passable. Hopefully future flash floods will clear the huge boulders making it more accessible to hikers in the future.