For anyone that is in the Crescent City, CA area, a visit to Stout Grove is well worth the time and effort. This 1/3 mile loop in Jedediah Smith Redwoods State Park (CA — part of Redwood National Park) is a wonderful walk under 300 foot redwoods with lush ferns covering the ground which will take your breath away as you look toward the sky to see if you can see the tops.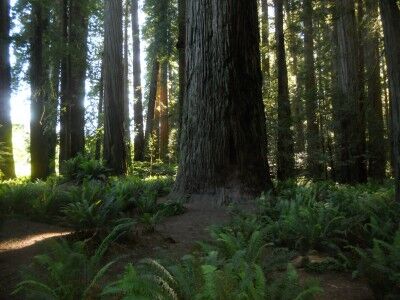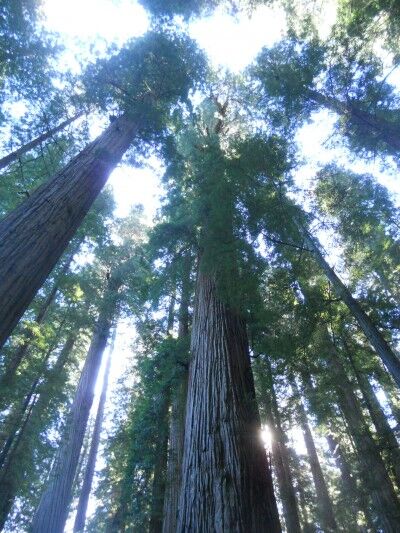 More Photos from Stout Grove hike
A placard at the beginning of the trail gives a brief explanation on how this redwood grove came to be:
Stout Memorial Grove

Stout Grove, a majestic example of an ancient coast redwood forest, is often considered to be the heart of Jedediah Smith Redwoods State Park. In 1929, Mrs. Clara Stout donated this 44-acre grove to the Save-the-Redwoods League to save it from being logged and to memorialize her husband, lumber baron Frank D. Stout. Today, land continues to be added to these northernmost parks through the efforts of the League.

A walk along this loop trail reveals colossal redwoods thriving in rich soil deposited during periodic flooding of the Smith River. Here, waist-high sword ferns carpet the forest floor and normally flared tree bases are covered in river soils. Flood waters inhibit the growth of understory trees and plants seen in other groves, leaving the 300-foot redwoods as the main attraction
Here is a short video clip as I walked a portion of the Stout Grove loop:
Directions: Drive east on Highway 199 and turn right on South Fork Road (about 2 miles past the National Parks Visitors center). Continue .5 miles across 2 bridges — at the "Y" in the road, turn right onto Douglas Park Road. Continue until the pavement ends at which point the road changes to Howland Hill. Continue approximately 1 mile on the gravel road to a paved road on the right — park in the lot and walk down the ramp to the 1/3 mile loop hike.