I would not recommend anyone making a special trip only to see Cataract Falls. The lower falls, which is the only area that is really accessible to most people, is nice but nothing spectacular. An exception might be for those with children who want to see a waterfall in the Vail, Colorado area (it's about an hour drive from Vail in White River national forest in the Eagles Nest wilderness area) or simply don't want to do a moderate to strenuous hike which is required to see other waterfalls in the area. It's not the biggest falls around, but it's easy to get to (only about 1/4 mile off the road). There is a small bridge below the falls where you can get a nice photo (the first photo below was taken from it), and there are areas where you can sit on rocks to enjoy a snack or meal.
I made the trip in late Autumn (mid October), so there was a bit of snow on the ground and the waterfall was beginning to ice up: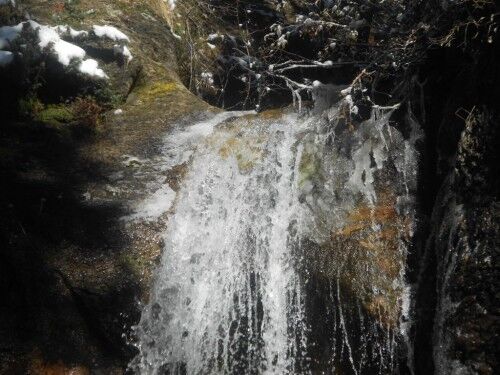 The is a way to get to the top of the falls, but it's much steeper than the trail there with a lot of loose gravel on the trail. I wouldn't recommend it for small children or anyone who isn't confident with their balance. This is a shot from the top of the waterfall: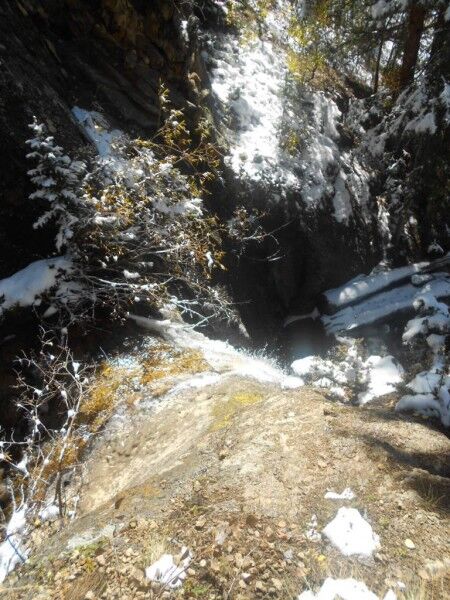 From the top of the fall, the trail disappears, although you can still climb to see an upper falls area. This is quite difficult and I wouldn't recommend it for anyone but well experienced hikers. I made it about half way up, but stopped due to the snow/ice on the ground. I'm not sure it would have been any easier without the snow on the ground. This photo was partial way up: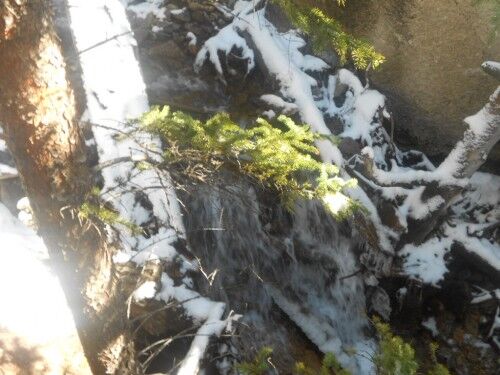 Directions
Take Interstate 70 West to exit 171. Upon exit, turn right (south) on U.S. 24. You will drive 15.4 miles when you'll see a national forest gate and dirt road on your left. This is the North Entrance to Camp Hale. Drive until the road ends (not far — you can see the end from U.S. 24) and turn right. Drive about a mile until you reach a fork in the road (there was a "Road Closed Ahead" sign at the fork when I was there). Stay left (the road closed side). Drive until you reach the "Road Closed" barrier (I'm not sure if this is permanent or not, but was there in October 2013):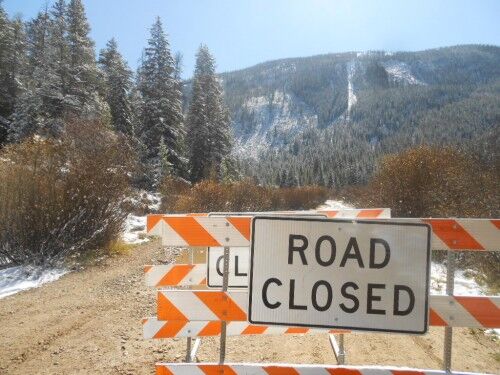 The trailhead is 100 feet before the barrier (you passed it if you reach the barrier) on the left side marked with two large wooden triangle posts.