There has been a fire nicknamed the Motor Fire (because it started when a motorhome caught on fire. The motorhome ended up catching the roadside foliage on fire which spread out of control into the current fire) burning just outside Yosemite National Park which has closed down highway 140 (the main entrance into Yosemite).
I happened to drive through Yosemite today coming in from highway 120. The entire ride up you could see forest fire haze hanging in the air and the smell of burnt material. I assume from the beginning that this was all from the Motor Fire, but as I approached the Yosemite Big Oak Flat entrance, there were fire crews setting managed fires in that area, so all the smoke was likely a combination of the two.
Heading along Big Oak Flat Road, you could see the smoke billowing up on the left and I took these photos of the Motor Fire at one of the view stops: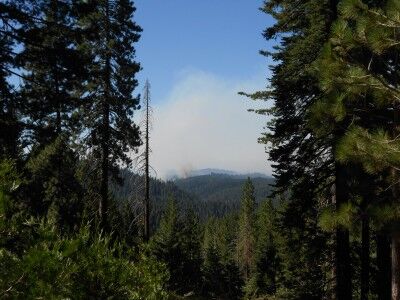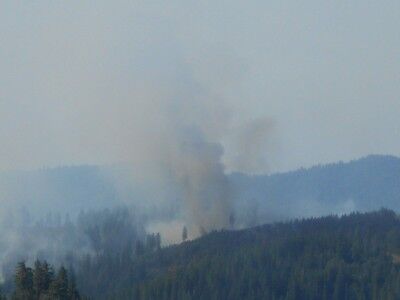 The wind was blowing in a direction that the smoke and haze wasn't heading toward Yosemite Valley or Tioga Road, so it was a beautiful day to visit (although a wind change could quickly change that). Since the main entrance is closed, there were far less people than would usually be there on a Sunday which made it rather nice. I was just passing through, but the views from Olmsted Point gave crystal clear views of Half Dome.
Here is a video of how the Motor Fire started: