Even if you don't enjoy hiking or walking along the beach, it's worth your time to drive to the Agate Beach parking area at Patrick's Point State Park (CA) because of the wonderful view. There is no hiking involved — simply get out of your car, walk to the north end of the parking lot (or sit down at a picnic table) and enjoy the view: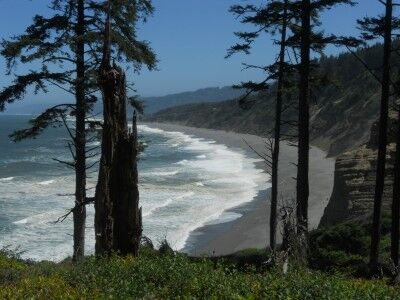 For those that do enjoy hiking, there is a foliage filled trail that takes you down to the beach. Once you reach the bottom, you immediately see a rock filled river which runs down onto the beach and into the ocean. These stones get pounded by the surf and then return to the beach leaving pockets of stones along the sandy beach. There were a number of people sifting through the pebbles and rocks looking for favorites: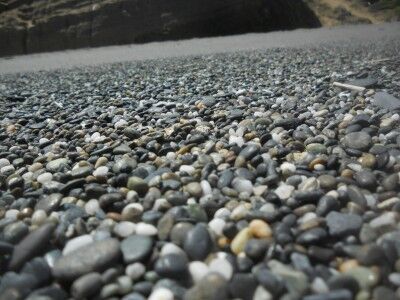 The beach is actually quite expansive and a wonderful place to take a long stroll. It doesn't take long before you are virtually alone, leaving the vast majority of visitors gathered in the area near the river. For anyone that enjoys searching for interesting rocks that the ocean washes ashore, you won't want to miss this beach.