As I have mentioned previously, I love the way that National Parks are able to inspire those that visit them. While each person takes something special away when they visit a National park, artists sometimes use the inspriation to create works that can be shared with all of us.
Mary C Nasser was able to find inspiration at Petrified Forest National Park, but that was not the only National Park which has inspired her work. Hawaii Volcanoes National Park has also inspired some of Mary's artwork:
In 2007, I spent 2 weeks living as resident artist at Petrified Forest National Park, examining desert landscapes, where the combination of aridity and erosion exposed the earth's composition, structure, and layers, the relationships between them, and the deep time they represent. After visiting extinct volcanoes in New Mexico, particularly Capulin Volcano National Monument, I longed to see active volcanoes.

As a result, I embarked on a residency at Red Cinder Creativity Center in 2008, located between the active and accessible volcanoes Kilauea and Mauna Loa, on the Big Island of Hawaii. I experienced and studied the various landscapes and dynamic geology of the island, particularly at Hawaii Volcanoes National Park. I had the unique opportunities of watching landscape being created by lava flowing into the ocean. I am fascinated by the process of lava hardening into rock, which, in time, will transform into soil where plants will sprout and grow. Hawaii Volcanoes National Park continues to inform and influence my work, including my current series of paintings.
The following four wonderful mix media art pieces were inspired by Hawaii Volcanoes National Park: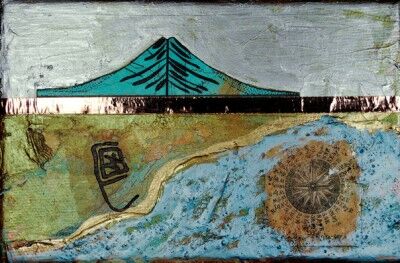 South: Mixed media, green olivine sand and acrylic on canvas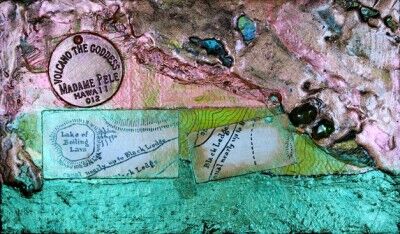 Lake: Mixed media, encaustic and olivine on canvas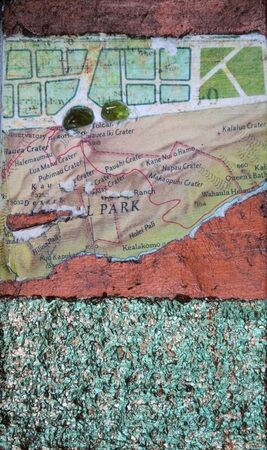 Park: Mixed media, olivine and acrylic on canvas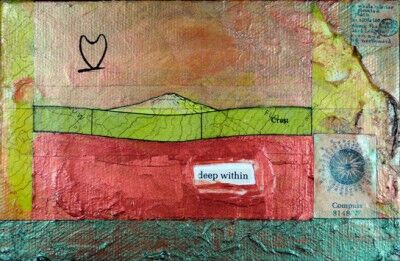 Deep Within: Mixed media and acrylic
You can see more of Mary's work on her website at Mary C Nasser, follow her on twitter or like her on Facebook. You can also keep up on Mary's latest projects on her blog.