Once you have started the rafting trip through Grand Canyon National Park at Lees Ferry, one of the first landmarks you see is Navajo Bridge. Navajo Bridge is located between miles 4 and 5 from where you started, but can be seen well before you actually reach it.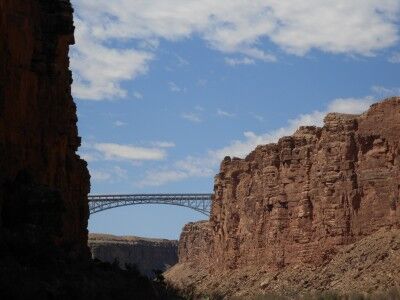 There are actually two Navajo Bridges that span Marble Canyon today. Construction on the original Navajo Bridge (upriver) began in 1927 and the bridge officially opened to traffic in 1929. This bridge is 834 feet in length and reaches 467 feet in height from the Colorado River at the Marble Canyon floor. The opening of the original Navajo Bridge fostered in the closing of Lees Ferry which had been the only way to cross the Colorado River in the vicinity up to that point.
A newer Navajo Bridge (downriver) was built to accommodate increased highway traffic with heavier loads and was completed in September, 1995 at a cost of about $15 million. The newer bridge is 909 feet in length and reaches 470 feet in height from the Colorado River at the Marble Canyon floor. It was constructed next to the original bridge with a similar visual appearance, but updated to conform to modern highway codes. The original Navajo Bridge was then turned into a pedestrian bridge with an interpretive center nearby which explains the history of the bridge and the early crossings of the Colorado River.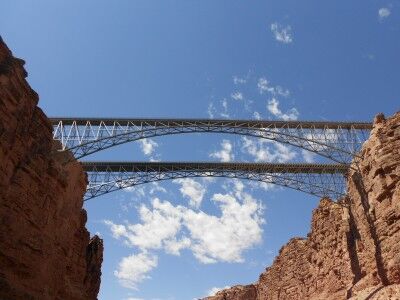 When passing under the Navajo Bridges while on a Colorado River rafting trip through the Grand Canyon, it's worthwhile to look closely at the bottom of the bridges (definitely take out your binoculars if you brought them). California condors have been reintroduced to the Marble Canyon area and one of their favorite resting places is in the bridge beams under the Navajo Bridges.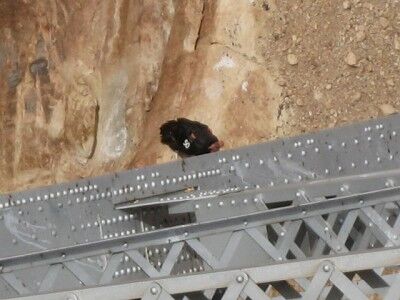 California condor on Navajo Bridge photo courtesy of CanyonCountry