The official beginning for most Grand Canyon rafting trips is at Lees Ferry (also commonly referred to as Lee's Ferry or Lee Ferry) in Marble Canyon which gives a wonderful preview of what's to come with the Colorado River surrounded by magnificent canyon scenery: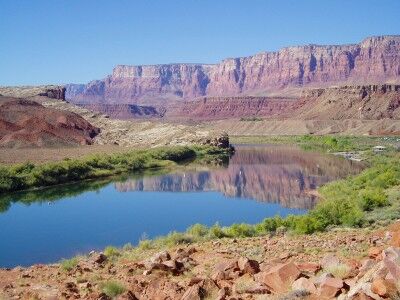 Since this is where the Grand Canyon rafting trips launch, this is where you get your initiation to what the rafting trip will be like. You meet the crew that will be guiding you down the river, are given supplies to keep all your belongings dry on the trip, given a quick course of raft safety and life jacket use, and load all your belongings onto the rafts. While there are some historical buildings and beautiful scenery all around, unless you make a concerted effort to seek them out, you will likely miss them as your focus will be on all the activity to get you on the raft and on your way down the Colorado.
There is quite a bit of history that goes with the Lees Ferry launch site. The ferry was originally built in 1871–1872 by John D. Lee with financing from The Church of Jesus Christ of Latter-day Saints. The ferry was located near where the Colorado River and Paria River merge and the crossing was originally called Paria Crossing. For nearly 50 years, Lees Ferry was the only available crossing of the Colorado River by ferry between Moab and Needles. This made Lees Ferry the main Colorado River crossing point for travelers between Utah and Arizona.
The actual ferry at Lees Ferry closed in 1928 with the building of Navajo Bridge (7 miles to the south) across Marble Canyon. The steel wire cable from the ferry still remains and crosses the Colorado River at the old ferry site. This cable marks the entrance to Grand Canyon National Park as you begin the float trip down the Colorado River. Lees Ferry is currently part of Glen Canyon National Recreation Area and is deemed as a historical site.
Photo courtesy of Li Ru Yue