Although a Grand Canyon rafting trip officially begins when you hit the water at Lees Ferry, it unofficially begins when you make your way to Las Vegas. There are options to fly from Las Vagas to Lees Ferry, but I would highly recommend renting a car and driving.
While it's about a 5 to 6 hour drive from Las Vegas to Lees Ferry, the route allows you to drive through Zion National Park. Planning an extra day or two to explore and play in Zion before a Grand Canyon rafting trip would be an excellent way to begin the entire vacation (while it's possible to do it after the rafting trip as well, you will have a lot more energy before the trip).
Even if you don't have the time to give yourself a full day at Zion National Park, it's still possible to do a short hike while passing through (what we ended up doing). A hike along the Riverside Walk path that takes you to The Narrows (Temple of Sinawava stop) is ideal in this situation since it also requires a trip on the shuttle bus which allows you to see the entire park and gives a quick guided overview of Zion.
The Riverside Walk is a relatively easy 2 mile round trip (about 1.5 hours) on a maintained path that is suitable for wheelchairs and strollers and gives some wonderful views of the North Fork Virgin River: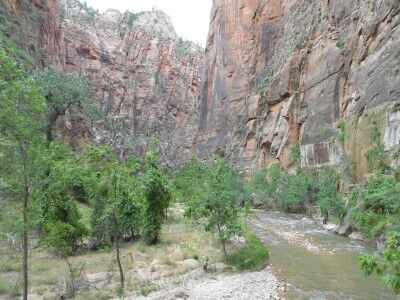 The end of the Riverside Walk path is at the North Fork Virgin River where the beginning of the The Narrows hike begins. This is a much more strenuous hike through the river and requires water shoes (these can be rented at a number of shops just outside the park's south entrance). You can hike the first few miles of this without a permit, but the entire 16 mile hike up The Narrows does require a permit.