Located between mile 33 and 34 along the Colorado River in Grand Canyon National Park (and just over a mile downriver from Vasey's Paradise) Redwall Cavern is a giant symphony-sized amphitheater created by the river eroding away the limestone Grand Canyon walls. John Wesley Powell, upon seeing Redwall Cavern, guessed that 50,000 people would fit into it. Although it would be a perfect place to camp, it's one of the sandbars along the Colorado River where it's prohibited to camp or build fires.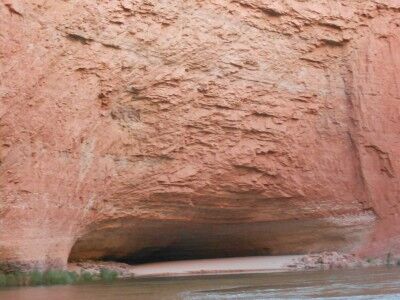 When you land at Redwall Cavern, you will immediately see the fresh feet and tail tracks of countless lizards and other small animals that make their home within the cavern. The wide open space in the shade makes for a perfect place to take out a football or Frisbee to toss around with friends, and it's a must to walk to the back of the cavern to touch the far wall (this gives you a good perspective on how big Redwall Cavern really is).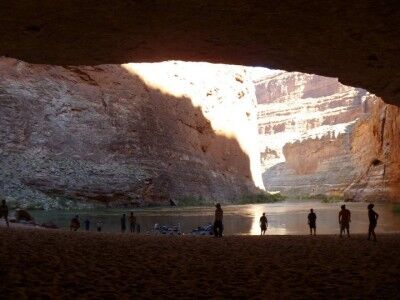 Photo courtesy of Angela Saurine escape.com.au
If you look closely at the rocks toward the front left (when looking out at the river) of Redwall Cavern, you should be able to spot fossils within them. Our guide showed us some and then I spent about half an hour looking at the rocks and found numerous other fossils within the rocks there.