With the South Canyon hike thwarted, I decided to try and make my way to Stanton's cave in Grand Canyon national Park. To make it to Stanton's cave from our camping area was a short hike downriver toward Vasey's Paradise after climbing up a rock ridge above the beach. A good pair of hiking shoes is definitely recommended if you want to attempt this hike.
Stanton's cave is quite large and many artifacts were discovered in it, but it is no longer possible to access the cave as there have been large steel bars placed across its entrance to protect the endangered Townsend's big-eared bats that live and roost there (This is a good resource if you are looking for more information on the history of Stanton's cave and bats, and preservation efforts that have taken place over the years). While the cave does first appear to be a former mine and the original signing describes it as such, it's actually a natural cave.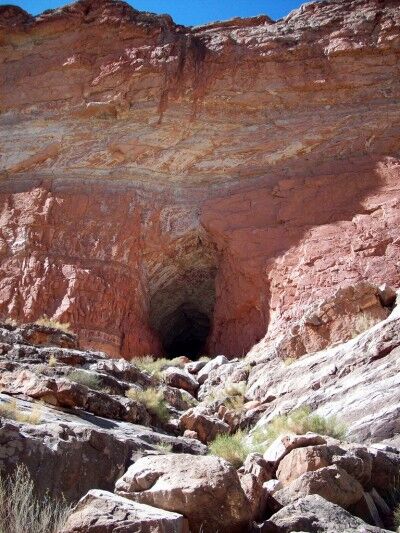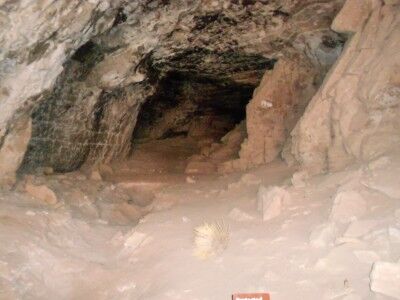 Just inside the bars is a sign explaining why the cave is blocked: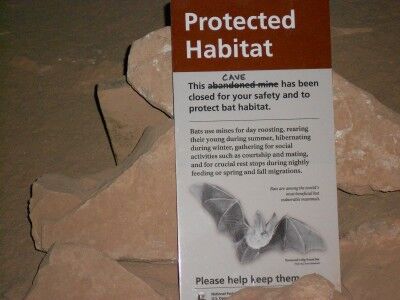 Protected Habitat

This abandoned mine cave has been closed for your safety and to protect bat habitat.

Bats use mines for day roosting, rearing their young during summer, hibernating during winter, gathering for social activities such as courtship and mating, and for crucial rest stops during nightly feeding or spring and fall migrations.

Bats are among the world's most beneficial but vulnerable mammals. Townsend Big-Eared Bat
The hike to Stanton's cave is about half a mile (1 mile round trip) from the South Canyon camping beach. It does require some rock scrambling to get up to the ridge above the beach. A path is well worn to the cave, but you do need to be cautious while walking it as there are quite a few loose rocks. Simple head in the direction of Vasey's Paradise. You may also spot big horn sheep while hiking to the cave (I did).